An eloquent blend of residential, resort, and recreational space, Palmetto Bluff, SC, offers unprecedented outdoor access to wealthy residents—and is home to indigenous wildlife, moss-laden oaks, unspoiled salt marshes, and rivers meeting the Atlantic.

For outdoor enthusiasts, Palmetto Bluff is the best-kept secret in South Carolina and is located in the heart of the state's Lowcountry. Situated on a 20,000-acre private development, three historic rivers define the refuge. The headwaters of the May River are located near the town of Bluffton, which threads by Bull and Daufuskie Islands (via the Cooper River), then meanders into the primal freshwater rice fields of the New River along the western border. Formerly a hunting preserve, the ecosystems within Palmetto Bluff are built around the rivers and forests of ancient live oaks, bottomland cypress forests, and longleaf pine. There's a robust population of wildlife, including wild turkeys, white-tailed deer, and both native and migratory songbirds.

With 32 miles of pristine riverfront, Palmetto Bluff offers a myriad of adventures nearby, and your biggest dilemma will be which experience to jump into first.
Palmetto Bluff Conservancy
The Palmetto Bluff Conservancy was founded in 2003, with the mission of preserving the seaside forests and undulating tidal creeks that define the Lowcountry's ecological landscape. The conservancy offers tours and clinics to help educate visitors about wildlife preservation and the ecological oasis that the May, Cooper, and New River provide. The conservancy has been able to maintain the natural integrity of Palmetto Bluff and is committed to including the public in preservation efforts through fun and interesting tours, classes, and workshops. Scientific research and academic field trips can be found at PBC education.
Longfield Stables
For those who enjoy taking in nature on horseback, Longfield Stables offers trail rides, lessons, and pony rides for children. Built in 2008, this 173-acre equestrian center boasts state-of-the-art boarding facilities for horse owners and includes a covered arena, outdoor dressage arena, five-acre turf event field, and the main barn full of amazing architectural detail. Community events are a tradition at Longfield Stables with exhibitions, shows, and hunts. Every year, the day after Thanksgiving, Longfield Stables hosts Horsin' Around Day, complete with hayrides, a petting zoo, and an equestrian demonstration.
Palmetto Bluff Shooting Club
Palmetto Bluff Shooting Club features sporting clays, an elevated and covered five-stand station, a wobble deck field, and a total of 14 shooting sites with 13 clay launchers set back for safety. The club is located in a dedicated 40-acre forest reserve, and the club instructors are experts—whether you need some critical tips to hone your skills, or you've never picked up a shotgun before.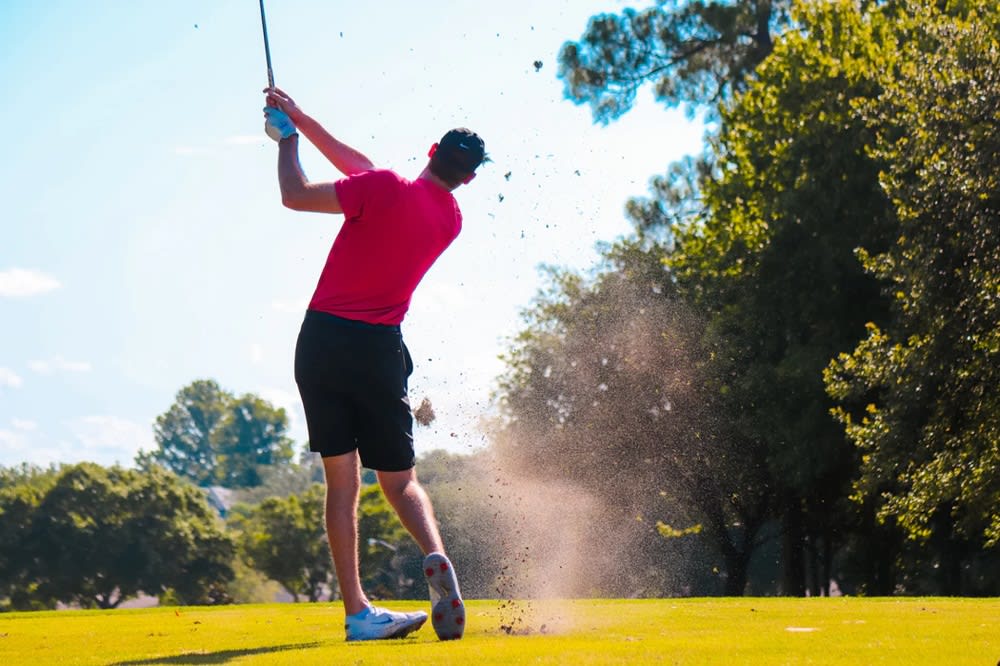 May River Golf Course
If golfing is your pastime of choice, or you're a new golfer looking for a fun challenge, May River Golf Course is a great place to work on your swing. The course has a gorgeous Jack Nicklaus Signature Par 27 design, with 18 holes weaving more than 7,000 yards through live-oak and Spanish Moss forests along the banks of the May River. It includes strategic white-sand bunkers, natural waste areas, with wide fairways to provide delightful challenges for golfers. May River Golf Course features Champions Bermuda greens, with white-sand bunkers strategically placed to test your nerves, and smooth slopes to challenge your putting skills. All tee boxes and fairways are equipped with the newest eco-friendly turf, Paspalum, and the course is carefully designed to challenge golfers of every skill level.
Biking in Palmetto Bluff
For cycling enthusiasts, the flat bike paths along the Palmetto Bluff waterfront are perfect for a ride, with views of pristine marshes and resident wildlife. Explore footbridges, and ride past the ruins of New York banker R.T. Wilson's legacy mansion, through the village square, and back out into the tranquil forest. If you're interested in specialized tours, Pedego Palmetto Bluff has plenty to offer, with electric bike rentals and tours—or buy your own electric bike and make fast and ecologically-friendly exploration part of your Palmetto Bluff lifestyle.
Palmetto Bluff waterfront
Outside Palmetto Bluff offers lessons in fly-fishing, as well as kayaking and paddle-board activities. May River Excursions organizes offshore excursions to take you into deeper waters for shark fishing, crabbing, and shrimping trips with the family. The simple pleasures of waterfront play are always available on any of the well-hidden beaches. Twice daily, the May River Sandbar reveals itself; a little island of serenity which can be enjoyed at low tide—but only accessed by boat. If a gourmet picnic service is what you're looking for, let Veuve Clicquot set you up with a romantic, specialized waterfront treat. All you need is your blanket and a good book.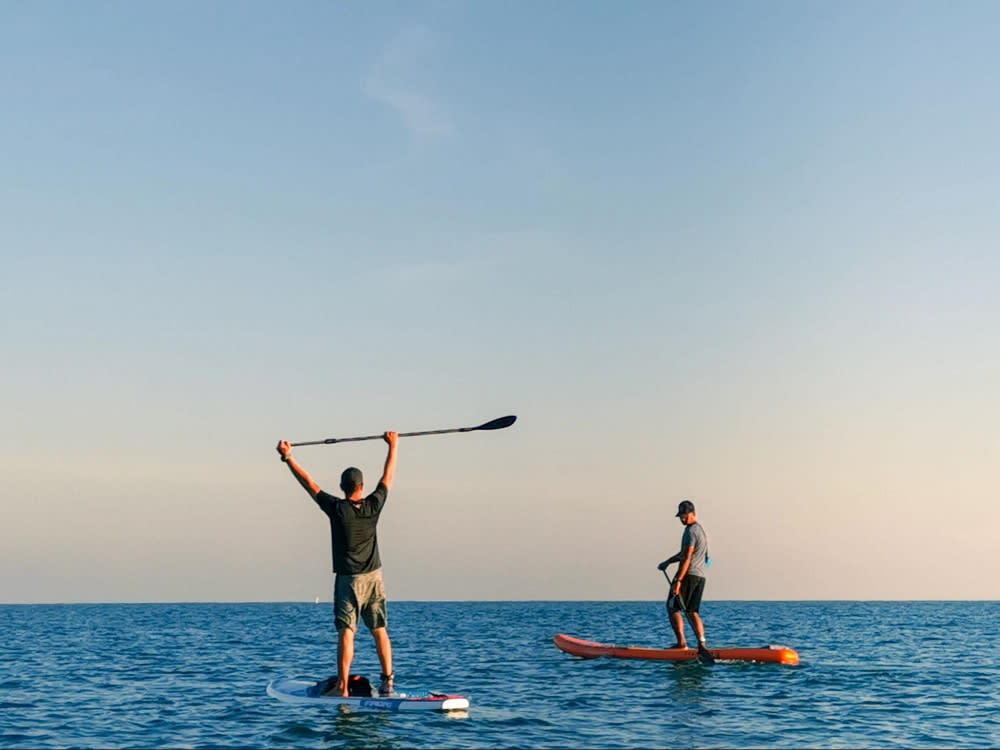 Music and art
Stargazing on a blanket at Moreland Village Green is a lovely way to wrap up the day — and don't miss out on Palmetto Bluff's fantastic music scene. Check out the quaint May River Chapel Concert Series for live acoustic music.

Palmetto Bluff also has an Artist in Residence program as a collaboration with Garden & Gun, which uplifts the arts, empowers creativity, and offers the opportunity for hands-on learning. Notable artists are invited to stay in the Artist Cottage in Palmetto Bluff's Moreland Village, where they share their talents with others. Through this program, residents and guests meet the artists and learn their crafts through workshops, lectures, classes, and field trips.
Relaxation
Palmetto Bluff offers a movement studio, modern fitness centers, heated Horizon lap pools overlooking the scenic May River, and an award-winning day spa. Spa Montage blends inspiration from the natural elements to create a luxurious wellness experience. Spa services offer facial and skin therapies, massage treatments, hair and nail pampering, and partial or full-day spa packages.
Restaurants
It can be a tough choice to decide which of Palmetto Bluff's diverse, authentic Southern restaurants is right for you, so why not try a different one every day? Check here for a comprehensive list, from casual bites and local farmer's markets to gourmet dining.

Fore & Aft, is situated along the inland waterway by the spa pool, with a relaxing view of the avian sanctuary just beyond the restaurant. Buffalo's is a revered community gathering spot. It's a corner café across the street from the chapel in Wilson Village and offers a stunning view of the May River and a menu featuring gourmet Italian fare of market-fresh salads, Italian sandwiches, pasta, and handmade gelato. Sip fantastic wines by the glass or bottle, or a variety of local craft beers and signature cocktails. The Canteen is great for a grab-and-go breakfast sandwich, a crispy panini for lunch, or a beautiful view and some local craft beer at sundown. Coles is a serene, casual setting with a gorgeous view of the marshes and regionally-inspired Southern cuisine.
Looking at homes for sale in Palmetto Bluff?
While Palmetto Bluff makes an idyllic vacation destination, it offers much more to its full-time residents. The Network can help you find a luxury home that plays to the advantages of the remarkable natural scenery of the South Carolina Lowcountry and offers value to your family both now and in the future.

*Header image credit: Palmetto Bluff