New luxury developments in South Carolina's stunningly beautiful coastal lowcountry are on the rise. Often though, they come-and-go so quickly that a majority of interested buyers often miss their opportunity to get in on a development's earliest offerings.

Thankfully, if you're reading this, there will be no such qualms with the area's latest and arguably grandest, master-planned luxury enclave: Riverton Pointe. With the first phase of construction in progress and several homes already spoken for, now's the time to act on what will be one of the region's most sought-after communities.

If you're in the market for a second home, a property to both vacation at and generate income with, or even a permanent residence in one of the Southeast's most peaceful settings, let us introduce you to a community worthy of your time and consideration. Keep reading to learn some key facts you'll need to know about Riverton Pointe.
Location
Riverton Pointe is located in Hardeeville, South Carolina.

When building a brand new, amenity-laden, upscale community, choosing the right location is critical to the development's success. Located just east of Hardeeville, South Carolina, and adjacent to the Savannah National Wildlife Refuge and Hilton Head Island, Toll Brothers picked a winner for the Riverton Point community.

Set near the southernmost point of South Carolina low country, in Jasper County, Riverton Pointe will prove a massive draw for those seeking a jumping-off place from which to enjoy the outdoors. The landscape itself is otherworldly; vast marshland, live oaks, sea pines, and palmettos create the sense that you don't just live near a national wildlife refuge but in the middle of one.

The chance to fish or hike, or the option to spend half a day on the golf course and the other half at the beach minutes from your house is incredibly rare. Riverton Pointe grants you the opportunity to live this laid-back, low-country lifestyle every day.

In addition to bordering the Savannah National Wildlife Refuge, Riverton Point is only a 20-minute drive to Hilton Head Island. The historic coastal enclave of Charleston is just under two hours away. Savannah, Georgia, is just across the state line, a mere 30-minute trek from your Riverton Pointe home.

Considering the access to history, outdoor pursuits, and high-end recreational facilities -- there are more than 75 golf courses less than a 30 drive from Hardeeville -- it's little wonder that Toll Brothers picked this perfect, central location as the site of your next home.

More than its recreational benefits, Hardeeville's ideal location provides you the best of all worlds. A semi-rural, small-town lifestyle close to both a major resort area on the Atlantic coast and a significant population center in Savannah with all the comforts and conveniences it provides.
Community
Riverton Pointe is a resort-style, staff-gated community featuring a number of luxurious amenities highlighted by a Nicklaus Design golf course.

Set within a stunning, expansive piece of low country land, residents at Riverton Pointe enjoy spectacular natural views that include community lakes and the surrounding woods. Again, think of it as your own personal wildlife refuge.

The allure of the community doesn't stop there. As a destination master-planned community, it boasts a range of recreational and social amenities made to impress even the most selective luxury homebuyer.

Currently, Riverton Pointe features:

◾ Nicklaus Design golf course
◾ Pool
◾ Fitness center
◾ Tennis courts
◾ Pickleball courts
◾ Bocce ball
◾ Driving range
◾ Social events
◾ Lakes
◾ Children's playgrounds

Future amenities that are under construction and will be available in the coming months include:

◾ Clubhouse
◾ Clubhouse restaurant
◾ Expanded fitness center
◾ Cafe
◾ Common spaces
◾ Community center

Of course, one must not forget the ultimate luxury of living such a short distance from the resort amenities of Hilton Head Island, including 33 championship golf courses, over 250 restaurants including gourmet shops and bakeries, and more than 350 shops, stores, specialty boutiques, and markets.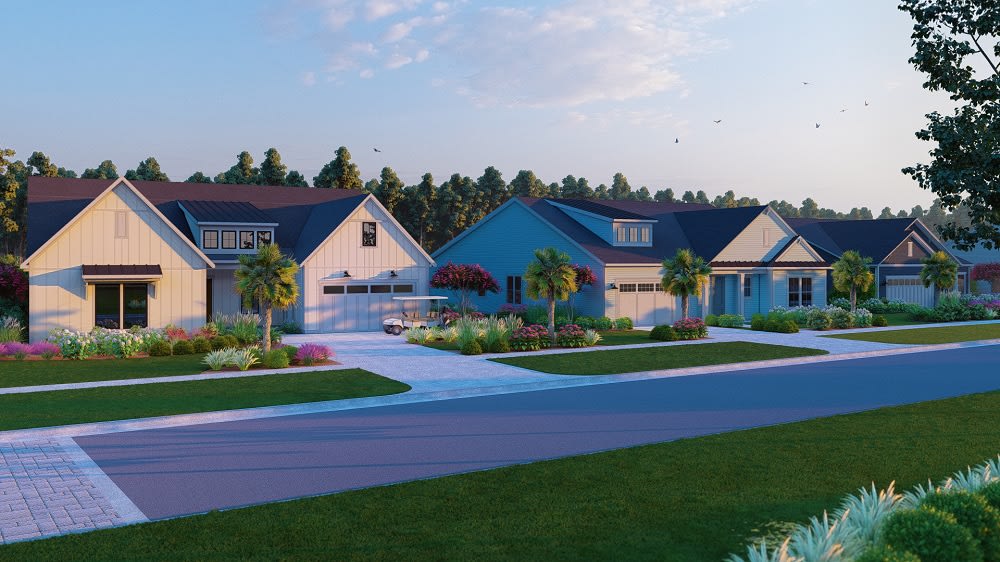 Credit: Toll Brothers
The Homes
Riverton Pointe features 15 unique plans across three distinct home styles.

The living spaces on offer at Riverton Pointe feature the absolute best of Toll Brothers' design principles. Three distinct home collections will incorporate 15 unique floor plans -- the Championship, the Lowcountry, and the Shoreside.

The Championship Collection will include homes with prices starting from $380,995. Boasting either a Craftsman, Farmhouse, or Traditional facade, these simple and elegant single-family residences will range in size from 1,697 square feet up to 2,618 square feet. Floor plans will feature between two and four bedrooms, two to three bathrooms, and options for flex space or a second-floor loft in the largest home. You can choose from the Corales, Genesis, Ryder, Sentry, and Genesis Elite floor plans.

For those requiring additional space, the Lowcountry Collection will range from 2,259 square feet to 2,867 square feet. Starting from $435,995, this five-home collection features two to four bedrooms and two to three bathrooms, with each residence boasting a dedicated flex space. A third garage space is available on two floor plans -- the Okatee and the Saltmeadow. Additional home designs include the Jessamine, Longleaf, and Jessamine Elite.

The Shoreside Collection further enhances Riverton Pointe's initial offerings with homes that range from 2,775 square feet up to 3,542. Priced from $493,995, these are genuinely exquisite homes, offering three to four bedrooms, two to four bathrooms, and an abundance of versatility with a casual dining area, extra garage bay, flex room and workspace, dedicated storage, and substantial laundry rooms. The largest floor plan, the Breakwater Elite, boasts two separate workspaces and a second-floor loft. Other homes in this collection include the Breakwater, Estuary, Hammock, and the Shoal.

This first phase of what is scheduled to be a 950 home community is situated along Laurel Oak Drive, with each homesite providing views of Riverton Pointe's 18-hole Nicklaus Design golf course. All homes will feature elegant front entryways, well-appointed kitchens with optional gourmet kitchens available, and bright, open-concept layouts that promote comfortable living and easy movement from one space to the next. Each home is customizable to include a multi-generational suite.
The Golf Course
Riverton Pointe's Nicklaus Design golf course is now open for play and stretches to 7,300 from the back tees.

The centerpiece of the Riverton Pointe community is, without question, the Riverton Pointe Golf and Country Club. Providing the foundation around which the community will blossom and grow, much thought and preparation went into crafting a design worthy of the Nicklaus name and the immaculate plot of land on which it would sit.

The completed layout will stand as the ultimate compliment to the surrounding environment. Tall sea pines will frame tee shots as they glide down the fairways. Large, gently sloping greens will accept both aggressive and conservative approaches and provide those putts for glory with a true line and roll. Wildflowers will paint the surroundings with a pleasing aesthetic that further enhances the golfing experience.

In the midst of the course's natural beauty, playability will ensure its an experience both low- and high-handicappers alike will appreciate. Five sets of tees will allow every skill level to take on the challenge at their own pace.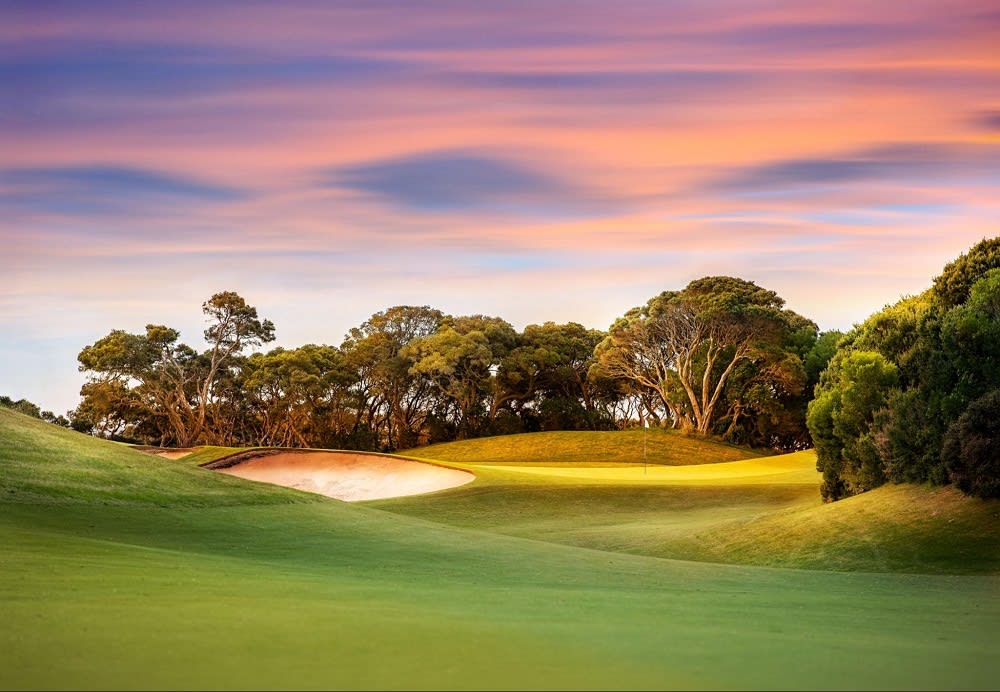 The Clubhouse
Riverton Pointe's clubhouse will serve as the central hub for the community's social pursuits, a gathering place for members and their guests to enjoy the good life.

The future clubhouse for the Riverton Point Golf and Country Club will indeed be a point of pride for the young community as it continues to expand. Currently, the club is focused on establishing several ancillary facilities, including a state-of-the-art fitness center and the Waterview Grill. The latter will be a casual dining establishment next to the fitness center.

The centerpiece, however, will be the clubhouse. The expansive gathering space will boast multiple dining opportunities and numerous venues for meeting and socialization. Whether it's morning, day, or night, a weekday or weekend, the clubhouse will prove a welcoming place to visit, dine, and reflect on living the good life at Riverton Pointe.
The Developers
About Toll Brothers

Toll Brothers, an award-winning FORTUNE 500 company founded in 1967, is the nation's leading builder of luxury homes. Embracing an unwavering commitment to quality and customer service, Toll Brothers currently builds in 24 states nationwide and is a publicly owned company with its common stock listed on the New York Stock Exchange (NYSE: TOL). 2021 marks the 10th year Toll Brothers has been named to FORTUNE magazine's World's Most Admired Companies® list. Toll Brothers also has been honored as national Builder of the Year by BUILDER magazine and was twice named national Builder of the Year by Professional Builder magazine.

About Nicklaus Design

Under the leadership of Executive Chairman, Howard Milstein, and CEO, John Reese, the Nicklaus Companies are dedicated to promoting excellence in golf-preserving its great traditions and growing the game. For nearly 50 years, the mission of the Nicklaus Companies has been to enhance the golf experience, elevating consumers and golf-related businesses to the high standards established in the career and life of 18-time major champion and golf course designer Jack Nicklaus.


Are you ready to secure your new vacation home or permanent residence within the Riverton Pointe community? Perhaps you're interested in property elsewhere in South Carolina flat country or along the coast. Whatever your needs - buy, sell, or investment opportunities - contact The Network Realty team today. Allow our years of experience and expertise to be your guide to the best of Coastal South Carolina luxury real estate.
*Header image credit: Toll Brothers